Motoz 19-100-110 (3.00,3.25,3.50X19) 4mm Uber-Ultra Heavy Duty Tube
Image for illustration purposes. Tyre prices based on single tyres.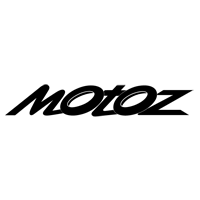 High Quality Natural Rubber Natural properties like a surgical glove (resists damage when stretched and compressed). 3 Types / Thickness Available: 1.4 mm Standard Series 3 mm Heavy Duty Racing 4 mm Ultra Heavy Duty
Tubes are made from 100% high grade Natural Rubber. Designed to fit motorcycle tyres at maximum volume, so they're under the least amount of stress (not stretched and thin when inflated).

The raw material we use is #1 Smoked Rubber sheet, which stretches like a surgical glove and can be compressed under load without splitting. This is super important for avoiding pinch flats.
Many tubes are made of Butyl (synthetic) rubber which is artificial and lacks the natural characteristics, the stretching and compressing capabilities of natural rubber, meaning that when butyl tube punctures, it tend to split and tear (and almost impossible to patch/repair – not what you want when you're miles from home).
Natural rubber tubes repair and patch easily, and are a must for long distance riding. They aren't cheap, but they aren't expensive for what you get.
---
About Motoz Motorcycle Tyres:
Motoz Tyres stand apart in both design and performance because first and foremost Motoz actually been riding dirt bikes for decades and understand the feedback that off-road tyres give through the bike. From this Motoz developed the Terrapactor concept to increase traction where the tyre works with the terrain by wedging and compressing the ground, unlike ordinary tyres that rely on digging it up and throwing it out the back of the bike. Motoz Tyres were also tired of off-road tyres that wear out quickly, so we combined our design innovation with materials innovation, resulting in tyres that have superior traction and mileage. Because Motoz have decades of off road riding experience, specialize in off road tyres, have award winning innovation, and use the best materials, Motoz Motorcycle Tyres believe are their tyres are the best quality hi performance off road tyres available.
(MOTUU19-100-110)
Be The First To Review This Product!
Help other Tyres 4 Bikes users shop smarter by writing reviews for products you have purchased.