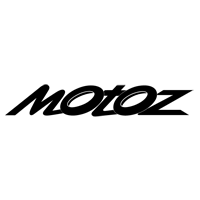 Longer wear than regular soft terrain tyres Reversible Hybrid Natural/Synthetic compound Aggressive traction in soft terrain DOT and ECER75 Homologated*
| | |
| --- | --- |
| Tyre Width | 80 |
| Tyre Profile | 100 |
| Tyre Diameter | 21 |
| Tyre Pattern | Tractionator Enduro s/t |
| Tyre Load | 51R |
| Tyre Position | FRONT |
| Tubeless / Tube Type | TT |
| Tyre Usage | Mx |
Application – Enduro Soft
10% Road – 90% Off-Road
TRACTIONATOR ® ENDURO S/T – the right choice for maximum traction in mud and extreme conditions.
Terrain Conditions. 20% Dry – 80% Wet; 30% Hard – 70% Soft
The MOTOZ Tractionator Enduro S/T (soft terrain) Tyre has been designed to give aggressive traction in soft terrain with longer wear than regular soft terrain tyres. It features a MX grip with Enduro strength and wear. Designed for riders who want the grip of an MX tyre and a tough carcass for off road with better resistance to punctures and pinch flats. Excellent for all weather in soft/varied applications.
The hybrid Natural/Synthetic compound is unique in its ability to give long wear in a soft terrain tyre, but good on road grip. MOTOZ Tractionator Enduro S/T tyre is of course also DOT and ECER75 Homologated* (some sizes also FIM homologated).
*only size 100/90-19 is NHS = Not for Highway Service
**140/80-18 FIM 2.15 inch rim is non-spec (use on 2.15 inch rims for FIM competition only).
Rotation
Riders can reverse rear direction when partially worn for extra grip and longer wear. The tread design gives rider choice for slightly better grip in their local conditions – whether mostly wet (mud), or mostly dry (loam and sand). The difference in handling can be as much as 10-15% depending on conditions. In varied or mixed conditions, best traction is achieved when new tyre is mounted in wet rotation, and changed to dry rotation half way through tyre life. Changing rotation isn't essential, but appeals to budget conscious riders who seek maximum wear life.
---
About Motoz Motorcycle Tyres:
Motoz Tyres stand apart in both design and performance because first and foremost Motoz actually been riding dirt bikes for decades and understand the feedback that off-road tyres give through the bike. From this Motoz developed the Terrapactor concept to increase traction where the tyre works with the terrain by wedging and compressing the ground, unlike ordinary tyres that rely on digging it up and throwing it out the back of the bike. Motoz Tyres were also tired of off-road tyres that wear out quickly, so we combined our design innovation with materials innovation, resulting in tyres that have superior traction and mileage. Because Motoz have decades of off road riding experience, specialize in off road tyres, have award winning innovation, and use the best materials, Motoz Motorcycle Tyres believe are their tyres are the best quality hi performance off road tyres available.
(MOTES80-100-21)
Be The First To Review This Product!
Help other Tyres 4 Bikes users shop smarter by writing reviews for products you have purchased.